This page is about the relationship between Ella and the animals that lives on Pahkitew Island
Overview
Ella is a parody of Disney princess, Snow White. In the movie you can see Snow White loves animals such as bunnies, deer, squirrels, etc. Ella loves that, and is acting like Snow White. She dances, sings, and even flies with animals. She danced with a pig in Total Drama Pahkitew Island, she sang a song with birds, and she took place in a confessional with maybe thirteen animals.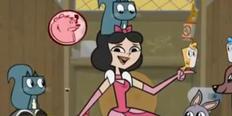 In
So, Uh, This Is My Team?
a bird saved her when she fell down of the plane with the other contestants. He grab Ella and brings her to the beach on Pahkitew Island. She thanks the bird and sings then with the bird. Later in this episode, Ella was seen with some animals and was singing again with the animals.
In I Love You, Grease Pig! she danced with a pig during the challenge. The challenge was to bring a pig to the finish. On her place, she get the pig and danced with it. Ella loves the pig and owned him to herself. While Sugar loves the pig too. Ella dont care about that. But they didnt won the challenge. Ella took place in the confessional with a lot of animals. Bunnies, deer, birds, raccoons, squirrels and hedgehogs run into the confessional to stay with Ella. Ella loves that.
Gallery