Topher, labeled The Chris Wannabe, was a camper on Total Drama: Pahkitew Island, and was placed on Team Kinosewak. He was voiced by Christopher Jacot. 
Personality
Topher is a such a huge Chris McLean fan he gave himself the nickname "Chris 2.0," and even has a cat named after Chef Hatchet. He frequently goes out of his way to try to talk to Chris, which usually causes him to not be very much help for his team. Just like Chris, Topher can be quite arrogant and frequently admires himself. He joins the show not to win the prize money, but to replace Chris as the host, and will attempt to do so at any opportunity. He is very ambitious in this endeavor, eventually stealing Chris's cell phone to contact the producers and frequently insulting his age to imply that they need a younger host such as himself. These situations beg the question of whether or not Topher truly does admire Chris, or was just stroking his ego so as to lower his guard and attempt to steal his job.
Total Drama: Pahkitew Island 
Trivia
Topher's name is derived from "Christopher", in which the first syllable "Chris", is the first name of Chris McLean
Sierra and Topher are somewhat alike because they both admire(d) Chris McLean.
He is similar to Justin because he admires himself and has very good looks.

However, he admires Chris also, while Justin only admired himself.
In his audition, he is seen to have an orange cat named Chef.
Also in Topher's audition, he says people refer to him as a younger Chris McLean and that his nickname is Chris 2.0 (Self-given) and all he wants to do is get a taste of what it's like to host the show (Before Chef attacks him)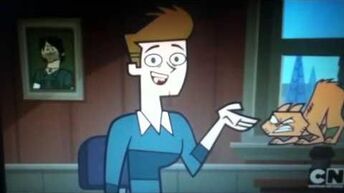 Gallery
Ad blocker interference detected!
Wikia is a free-to-use site that makes money from advertising. We have a modified experience for viewers using ad blockers

Wikia is not accessible if you've made further modifications. Remove the custom ad blocker rule(s) and the page will load as expected.